If you have been called to inherit assets in Javea , you will need an English speaking probate lawyer/solicitor/ attorney to handle the inheritance procedure for you.
My name is Michael Davies and  I  am a fluent English speaking Spanish probate lawyer  specialised  in handling inheritance  and inheritance related litigation for ex-pats in Spain.  I am member 67228 of the Madrid Law Society  and 1748 of the Almeria Law Society and I have been in practice for  over 25 years. I  have the experience of having dealt with over 2000 wills and 400 probate cases for ex-pats in Spain.  I am a recognised expert in the field of international inheritance and all relate matters and  have been handling cases all over Spain since 1994 and write a well read blog on the subject of inheritance and estate planning for ex-pats in Spain. 
Please email maid me today if you need help with Probate in Spain , Spanish wills or enduring powers of attorney.
If you have doubts about your existing Spanish wills send me a copy by e-mail and we will comment on them free of charge.
Michael Davies/Abogado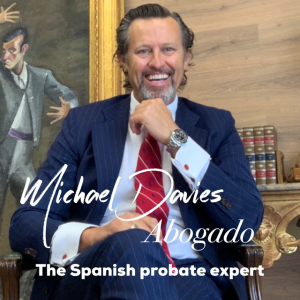 Spanish Inheritance by Michael Davies in Javea in a nutshell:
Michael Davies

the owner or the firm is a fluent English speaking Spanish probate lawyer  with over 25 years experience.

He is  member of the law societies of Almería and Madrid.

He is a well   known

Spanish inheritance tax expert

. We will make sure that you pay the minimum amount of inheritance tax possible. Inheritance tax forms are presented by self assessment and the exemptions applicable vary depending on where in Spain the beneficiary is resident  or on where the assets are situated if the beneficiary is non resident in Spain.  To make things more complex we have had a few changes to the exemption rates in the last 5 years and to the way they apply to non-residents due to varios sentences by the E.C.J. and the Spanish Supreme court.  We will also take into account the effect of the inheritance valuation on the future capital gains tax  very often overlooked. We are well aware of all the Valencia region inheritance tax exemptions and the recent changes. 

We take care of everything from start to finish including  inheritance tax registration and registration of the real estate.

We are transparent and upfront with our fees. (no surprises). We do not provide a below the market quote for Probate to then surprise our clients with fees for extra items.

We are proactive with our advice. We have done this hundreds of times before so we know exactly what needs to be done.

We have offices in Marbella, Almeria and Mojacar  with associated offices in Alicante , Moraira and Javea but we can handle probate anywhere in Spain at no extra cost to you.
Our experience of  over 25 years and over 300 probate cases handled allows us in 90% of cases to provide an exact budget and timescale from the start and

avoid all the pitfalls of an inheritance procedure

avoiding both extra costs and delays.
· Probate / Inheritance
· Estate planning / Wills
· Conveyancing
· Litigation.
· Advise you professionally
· Be sensible, fair and transparent with our fees
· Be proactive with our advise (we will offer all the information that we consider could be useful to you without waiting for you to come up with the correct question)